Insurance Facts for Renters




You might not own your place, but the gear, gadgets, clothes and collectibles inside it are worth more than you think. and because your landlord's insurance likely doesn't cover your valuables, you should consider renters insurance that does. contact your agent to get the right protection for the stuff that represents the dreams you've worked hard for. You'll be surprised at how little it costs — and even more surprised at how much it protects.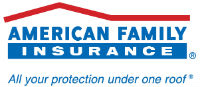 Donna Feighny-Yantis Agency,LLC.
An Outstanding Customer Experience
J.D. Power and Associates certified
Distinguished Insurance Agency
Bus: (970) 351-6528
Call today for a competitive renters insurance quote.
Your dream is out there. Go get it. we'll protect it
American Family Mutual Insurance Company and its Subsidiaries, American Family Insurance Company
1931 13th Avenue #Main


(970) 353-3000




1931 13th Avenue #Main


Greeley CO, 80631
House
Click Here For Details


3 Bedroom / 1 Bath : $1,800/month